The Forever Outdoors Difference
Our Outdoor Living Space, Patio, and Deck Building Process
Outdoor Living Space Renovations Tailored to Your Needs
At Forever Outdoors, we apply our extensive experience in construction, renovation, patio and deck building, and more to create a custom outdoor living space for your home. Adding onto your house can seem like a daunting prospect, but our team is committed to making your process as simple, affordable, and transparent as possible. Led by our master deck builder with more than 35 years of experience in the field, our team will ensure that you understand all the stages, costs, and options you have before we get started on your project — so that you can relax while we bring your vision to life. Are you ready to get started? Get in touch with us to schedule an estimate!
Five Key Components of a Remodeling Project

Contractor Selection
The most vital step of any patio, deck building, or outdoor living space project. Watch out for unlicensed and uninsured contractors and inaccurate pricing. If something feels too good to be true, call us and we can clear it up for you.

Design
Just because it worked for others doesn't mean it's right for you. Consider how frequently you will use the space, the amount of maintenance you're comfortable doing, and what you would like it to look like.

Materials
There are many different patio, deck building, and outdoor living space materials that have their own advantages and disadvantages. Check out different types of composite and natural wood, and remember that, in general, cheaper materials have shorter life-spans and require more maintenance.

Budget
It's crucial that you discuss your budget with your contractor up-front. This will help you choose the right solution and prevent unwanted surprises or delays during your project.

Execution
Is your contractor capable of giving you the results you're looking for? Set clear expectations for communication and make sure the process is clear.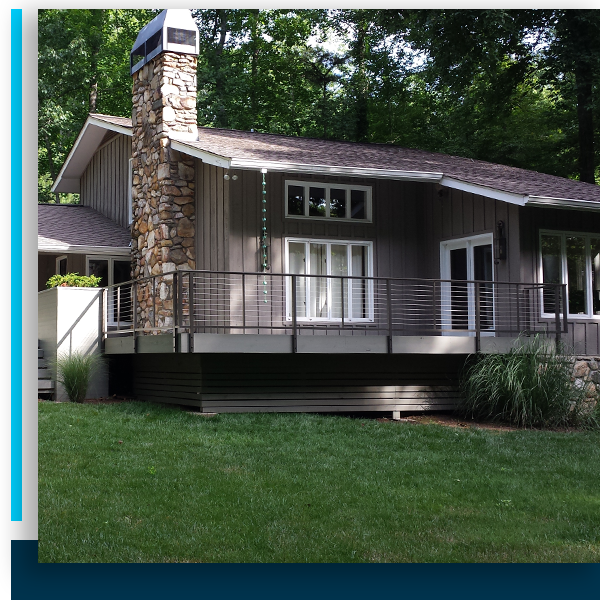 The Permitting Process for Deck Building and Other Renovations
Most deck building projects require a permit from the local municipality. Although each municipality is a little different, the general requirements for obtaining a permit are:
Provide a site-plan showing the dimensions of the house on the lot, property lines, and any easements or setback.
Provide a set of drawings showing what is going to be built and how it will be constructed. Some municipalities require more detail than others.
Provide a letter from the Health Department approving the new project. This only applies if there is a septic tank on your lot.
Provide a letter from the Homeowners Association granting approval for your project. This only applies if you have an HOA in your subdivision, and it is the only item we can't provide for you.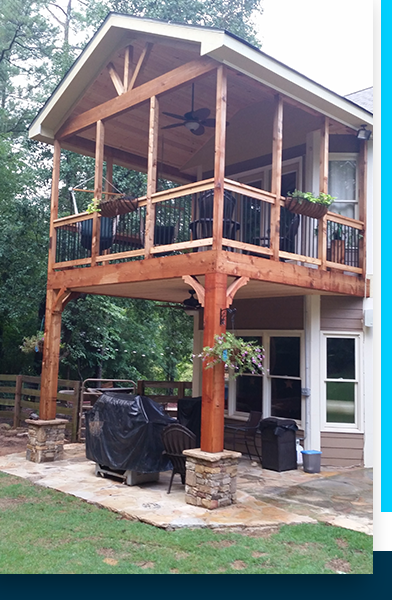 Things to Consider During Your Deck Building Project
Project Timeline - Once the project start date is set, a schedule will be sent to the homeowner twice a week with the action items listed for the remainder of the project.
Access to Your Home - Typically, access will be required during construction to complete the work and any required inspections.
Work Area Protections - The project area will be closed off and any doors leading to the work area will be barricaded.
Property Damage Liability - The utmost care will be taken to protect your property during construction. Pictures of the work area will be taken prior to work beginning. Please note that it is normal for the ground of the work area – including any pathways from the material drop sites – to become worn during the project. If the contractor or any of their subcontractors damages your property during the deck building project, the contractor will be responsible for all repairs.
Inclement Weather - Throughout your project, we will monitor the weather and schedule work around it. We prioritize the safety of our customers and employees, so we choose not to work during inclement weather. Weather conditions can be a moving target, so we appreciate your understanding if work must be postponed. We will do our best to make for any weather delays as soon as possible.
Payments - You will find a dedicated payment schedule listed in the proposal we provide for you. The schedule is based upon milestones and will be completed upon execution of the contract. Acceptable payment types and terms are also listed in this proposal.
At Forever Outdoors, we pride ourselves on quality, transparency, and customer satisfaction. Our goal is to create a unique outdoor living space where you and your loved ones can create lasting memories, and we believe that your patio or deck building process should be simple and stress-free.
Are you ready to bring your vision to life? Get in touch with the patio and deck building experts at Forever Outdoors! Fill out the form below and we will contact you to schedule an estimate.